15 Questions To Ask In Your Remote Work Survey
by
André Francois
| 2023-05-01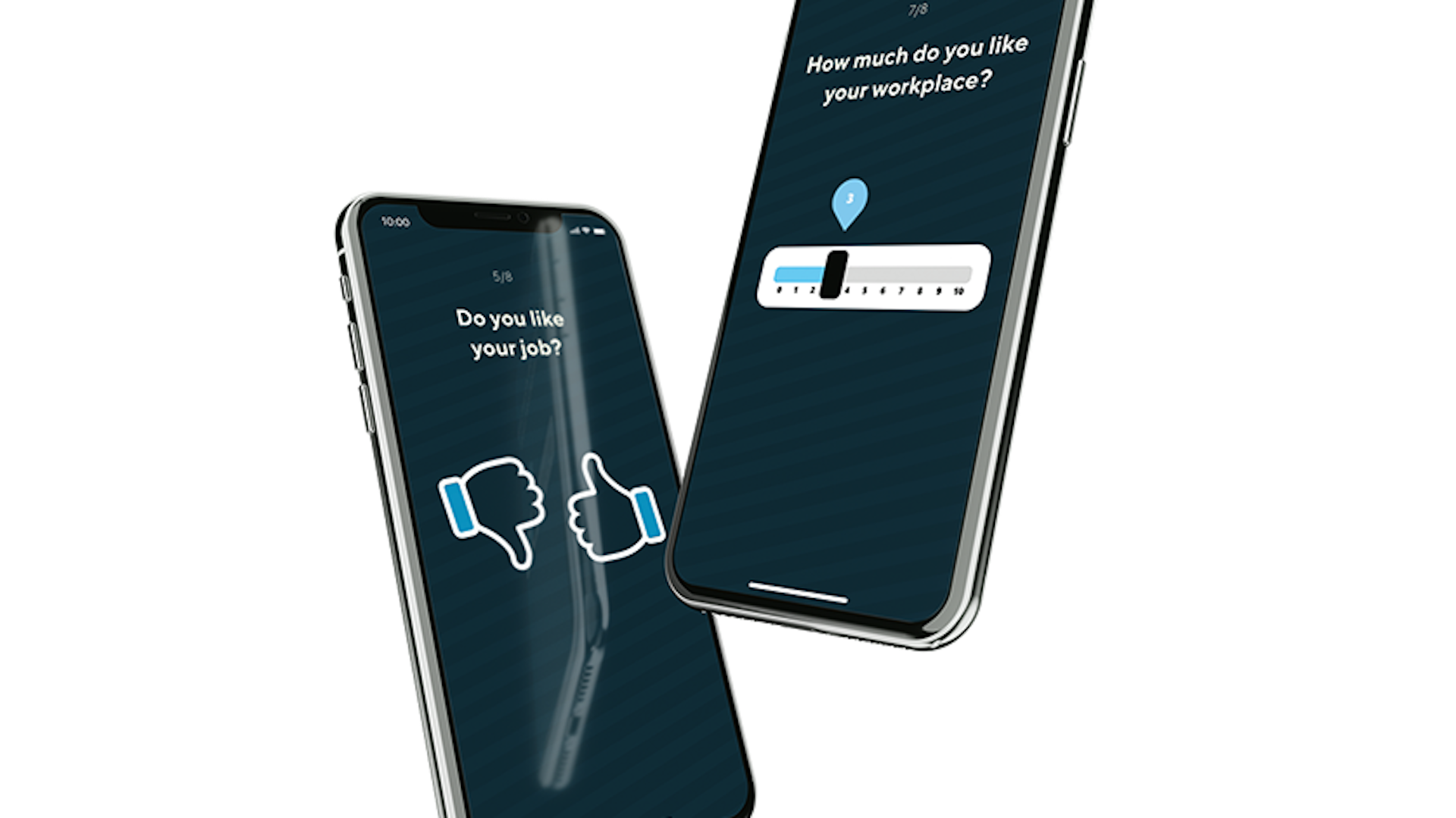 Remote work is booming but it doesn't mean it is for everyone
Remote work can be great. You save time not commuting and can spend more time with family and pet/s. You also have the freedom to wear whatever clothes you like and choose your physical environment to your preferences. The downside is that you don't have any colleagues to laugh with in the company dining room. You also have to attend endless Zoom calls that can be less creative than regular meetings.
So, is remote work the best solution for you and your team? To find out or follow up on the time you already have been working remotely a Remote Work Survey can be a good idea. We have hand-picked 15 questions to ask your team and hope they will inspire and help you to better understand the needs of your team.
Do you have any concerns about working remotely?

There are pros and cons to working remotely. On one hand, there are fewer distractions, less pressure to perform, and more flexibility with scheduling. On the other hand, you might miss out on social interactions, face-to-face meetings, and opportunities to learn new skills.

Are you comfortable with the tools you need to communicate effectively?

If you're considering remote work, make sure you're comfortable communicating with your team members using email, phone calls, and online chat. It's also important to understand how different communication methods affect productivity.

For example, research shows that people who use instant messaging tend to be more productive than those who rely solely on email.

We have also made a blog post about how to keep a remote team happy and productive.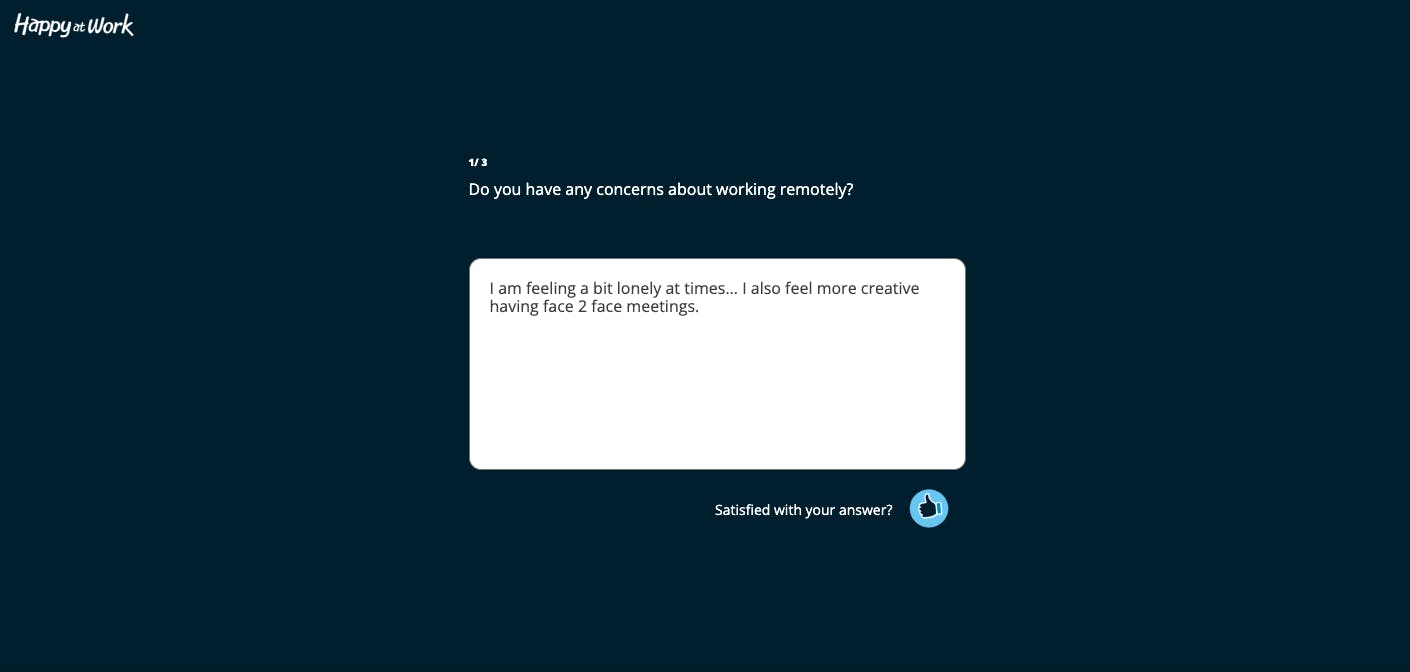 Is there anything specific you would like to see improved?

Another thing to consider when choosing between remote work options is whether you prefer to work alone or with others. While some companies offer flexible schedules so employees can choose to work remotely, others require everyone to work together in one location.

Do you feel like you have enough support from management?

If you're considering joining a company where everyone works remotely, make sure you understand how much support you will receive from management. It's not uncommon for managers to provide less support than expected, especially if they're new to the role.
What motivates you when you think of working from home?
This question is great in order to find out what reasons and motivation your team has working from home. Is it to make the family puzzle easier? A more relaxed dress code? Not wasting time commuting?
Whatever you find here might help you to take decisions of doing fully remote or a combination - or change something at the office. If everyone says that a more relaxed dress code is making them prefer working from home, it might be worth changing the company's dress code.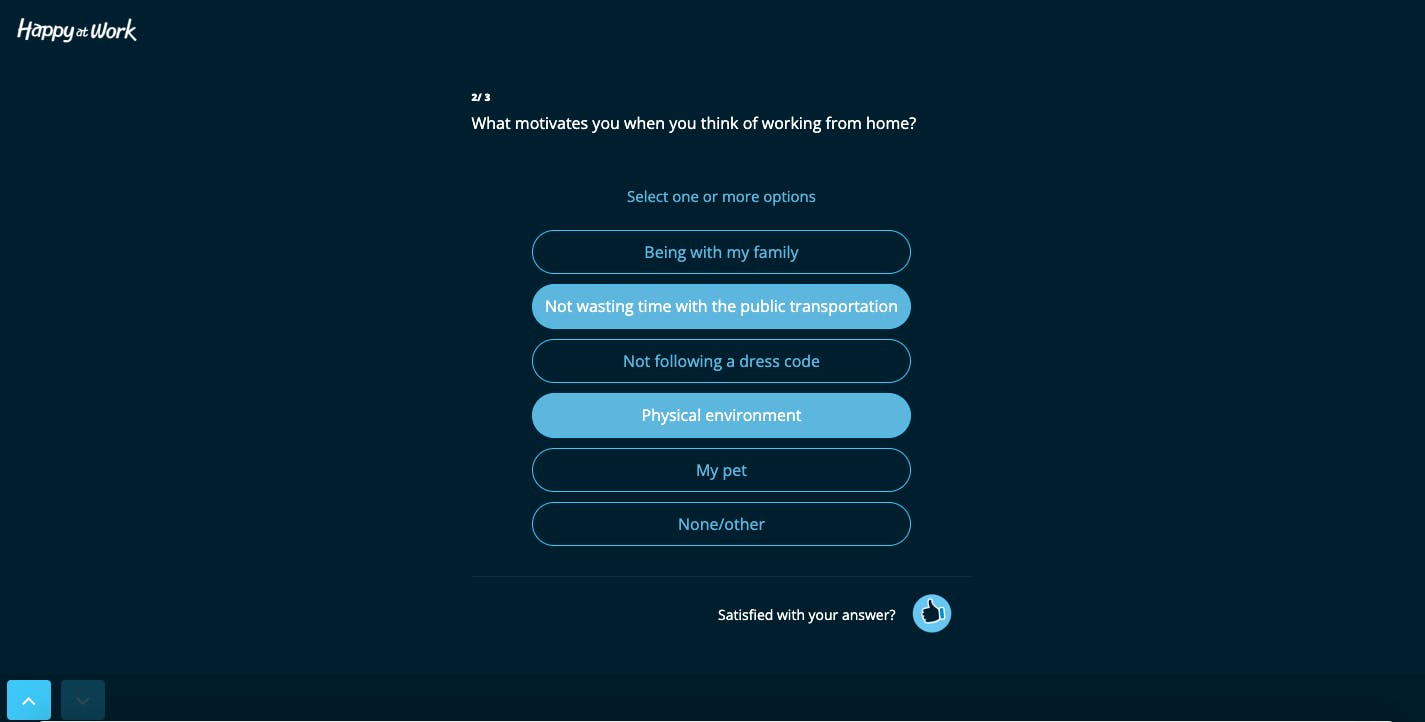 Keep it short to increase response frequency and relevance
I recommend you to pick maximum 10 of these 15 questions as you don't want to bore your team with a ton of questions, it is better to keep it short and relevant. At happyatwork, we have also seen a strong link between short surveys and high response frequency and response relevance.

Here are ten extra questions to help you get started:

1. How do you define "remote work"?
2. Do you prefer working remotely or in an office?
3. Do you feel that it's important to travel for business?
4. How much time do you spend at home each week?
5. How would you describe your current job situation?
6. Are you currently working from home full-time?
7. Have you ever worked remotely before?
8. If so, when did you start?
9. How do you feel about working remotely?
10. What are some things you wish you knew before starting out?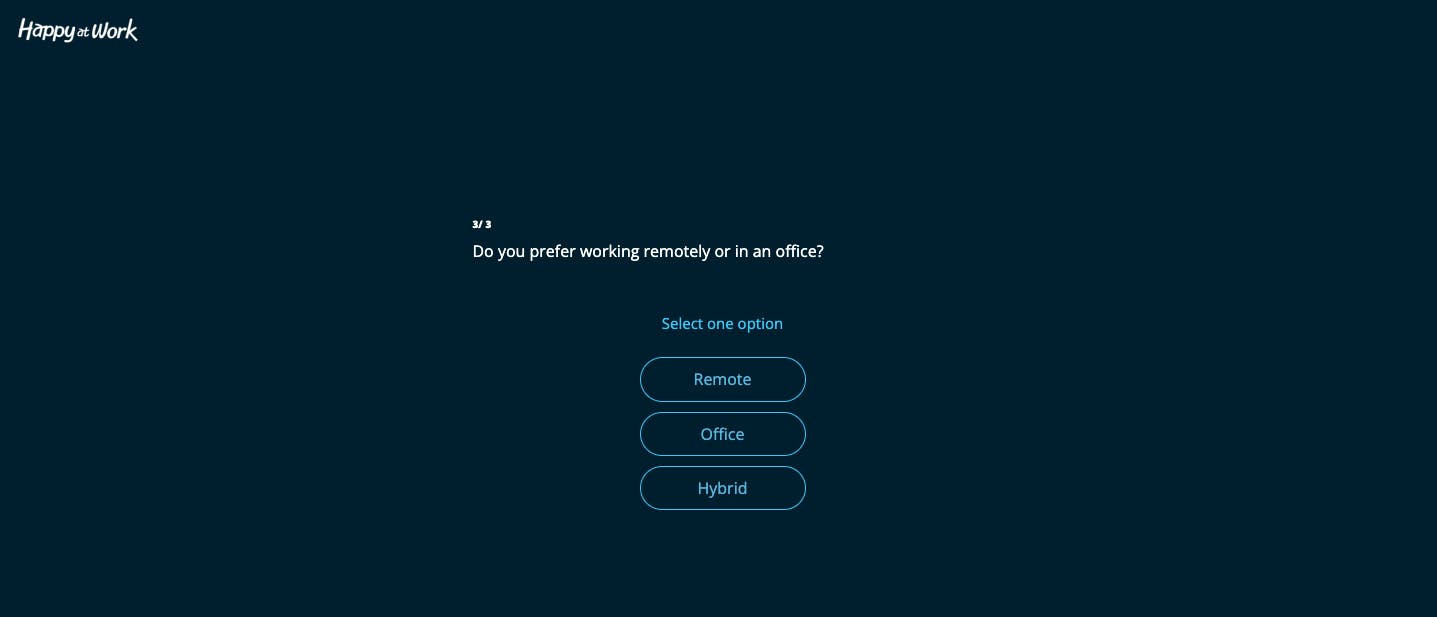 Conclusion

Conducting a survey to find out more about your team's approach to working remote is a great way to act based on facts. Remote work has become increasingly popular, but that doesn't mean that it is suitable for everyone. In the many meetings that I have with clients and companies they all tell me different stories and experiences regarding remote work. Some people love it and some people really need an office to go to.
Use these questions as an inspiration to conduct a survey or start a conversation with your team.
What is important for them? What is the best setup for your company? I hope it can be helpful.
Always feel free to reach out to us if you need some extra help or guidance.